TOP
Summer Cuisine Set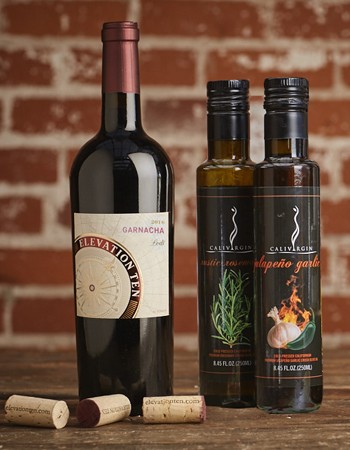 We've paired our easy-drinking 2016 Lodi Garnacha with our 2 top-selling, locally-grown, CaliVirgin flavored olive oils in our Summer Cuisine Set.
Because gourmet cuisine doesn't have to be complicated, especially with the right ingredients, we're offering 30% savings today. Our tasting room is open Thursday-Monday from 11am to 5pm, visit us and stock up on all your Summer entertainment and BBQ needs. Shop online today for convenient shipping options, offer ends July 31st. No other discounts apply.
If you would like to pick up your Summer Cuisine Set at our Clarksburg Tasting Room, please select "pick up at winery" in the Shipping Information section at checkout.
Each set includes:
- 1 bottle of 2016 Garnacha
- 1 bottle of CaliVirgin Rosemary Olive Oil
- 1 bottle of CaliVirgin Jalepeno Garlic Olive Oil
Discover delicious recipes using CaliVirgin Olive Oil
Roast Potatoes with Rosemary and Truffle
Thai Noodle Salad