Spicy Chicken Soft Tacos with Goat Cheese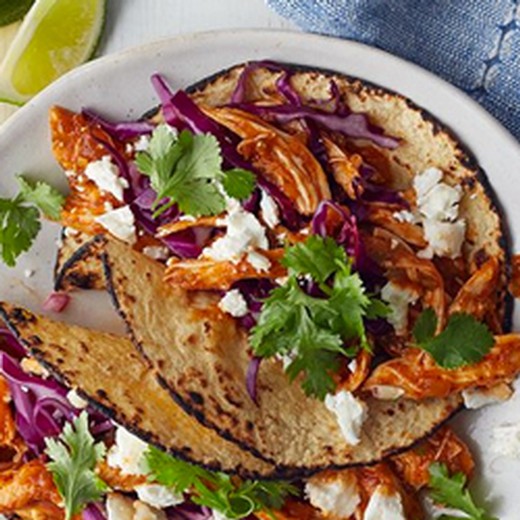 Measurements:
Imperial (US)
Ingredients
1 cup canned tomato sauce
1 cup chopped uncooked onions, diced
1 medium jalapeño peppers, seeded and minced
1 clove medium garlic cloves, finely chopped
1 tsp chili powder
1/2 tsp ground cumin
1 lb uncooked boneless skinless chicken breast
1 tsp kosher salt
8 small corn tortillas, warmed
1 cup uncooked green cabbage, shredded
1/4 cup semisoft goat cheese, crumbled
1/2 cup cilantro, chopped
1/2 medium fresh lime, cut into wedges for serving
Directions
Directions: In a medium bowl, combine tomato sauce, onion, jalapeno, garlic, chili powder, cumin and salt; set aside.
Coat a small saucepan with cooking spray; heat over high heat. Add chicken; brown chicken, flipping once, about 2 minutes per side.
Add tomato mixture to pan and pour in about 1/4 cup water (or as much as is needed to just cover chicken). Reduce heat to low and bring to a simmer; cover and cook until chicken is cooked through, about 35 minutes. Remove chicken to a plate to rest.
Increase heat to high and cook sauce, stirring a few times, until sauce reduces and thickens, about 5 minutes.
Meanwhile, finely shred chicken using 2 forks; add chicken to reduced sauce to heat through.
To serve, top each tortilla with about 1/2 cup chicken, 2 tablespoons cabbage, 1/2 tablespoon goat cheese and 1 tablespoon cilantro; drizzle with fresh lime juice. Yields 2 tacos per serving.