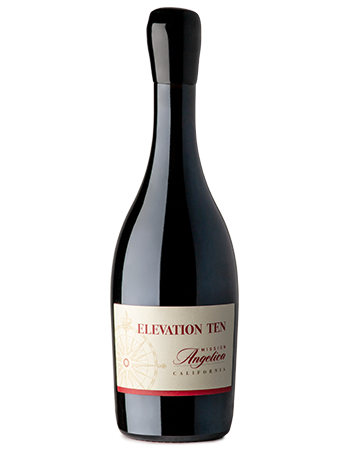 Angelica
Our Angelica pays homage to a style of wine that has been present in the New World since the first Europeans settlers arrived in the 1600's. It is made by adding brandy to must or grape juice. We use the Mission grape, which was brought into California in the 1700s by Franciscan missionaries. According to Wikipedia, up to the year 1850, Mission "represented the entirety of viticulture in California wines." It is now exceedingly rare, with less than 1,000 acres in the state. Mission has been genetically traced back to a variety from the Canary Islands called Listan Prieto.
The primary source for our Mission grapes is the old Eschen Vineyard in Amador County near Fiddletown. It is now owned by Gino Rinaldi with whom we have worked for the last 17 years. These Mission vines are from a block believed to date back to the 1860s. There are only a handful of pre-1900 plantings of Mission in Amador. We make our Angelica by adding brandy to the must just after fermentation (with native yeast) has initiated. We allow the juice to macerate on the skins for up to two weeks before pressing the wine to barrel. This first release of Elevation Ten Angelica is a blend of five vintages, with an average barrel-age of 10 years.
It is sweet, velvety and complex with aromas of molasses, leather, coffee, caramel and dried cherries. Our Angelica pairs well with blue and hard cheeses, Italian Panforte, roasted chestnuts and many desserts. If you are feeling adventurous, try it with savory dishes including braised short ribs, lamb shanks and curried foods. It can also be savored as a dessert by itself and we've been told it is a great companion to a good cigar.