Asian Pork Tenderloin with Ginger Glaze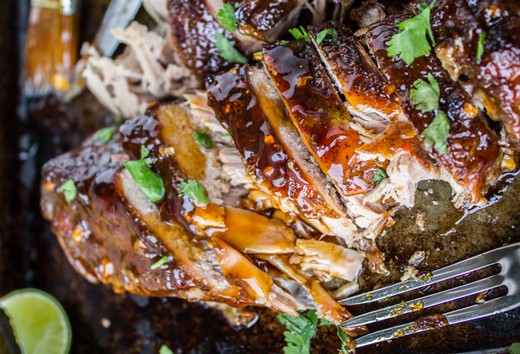 Recipe Date:
May 18, 2020
Measurements:
Imperial (US)
Ingredients
1 tablespoon brown sugar
2 teaspoons salt
1 teaspoon powdered ginger
1/2 teaspoon cinnamon
1 teaspoon garlic powder
1/2 teaspoon powdered cloves
1/4 teaspoon black pepper
1/2 teaspoon crushed red pepper
2 pounds pork tenderloin
1/2 cup brown sugar
1 tablespoon cornstarch
1/4 cup rice vinegar (or white)
1/2 cup cold water
2 tablespoons soy sauce
2 teaspoons fresh ginger, minced
Fresh cilantro, to garnish
Lime wedges, to garnish
Directions
In a small bowl, combine the brown sugar, salt, powdered ginger, cinnamon, garlic, cloves, black pepper, and crushed red pepper.
Place the tenderloins in the slow cooker. Rub the seasonings over the pork, including the bottom.
Pour ½ cup water in the slow cooker, on the edge or in the middle so that you don't wash off all the spices you just rubbed on.
Cook on low for 6-8 hours, then preheat your broiler.
While the pork is finishing up in the slow cooker and your broiler heats up, combine 1/2 cup brown sugar, cornstarch, rice vinegar, COLD water, and soy sauce in a small saucepan.
Set over medium heat and stir until mixture thickens, about 4 minutes.
Remove from heat and stir in minced ginger.
Line a baking sheet with aluminum foil and spray with nonstick spray.
Remove the pork from the crockpot (discard the liquid) and place on the lined baking sheet. Brush a generous amount of the glaze on the pork.
Put your oven rack as high as it will go, and broil the pork for 1 or 2 minutes, until bubbly and caramelized. Don't walk away! Repeat 2 to 3 more times until it is as crusty as you want it. I wouldn't go many more times than this though, or your pork will dry out.
Serve with remaining glaze on the side, and garnish with lime and cilantro.
This recipe pairs beautifully with our 2019 Proprietor's Vin Blanc, which is an energetic blend of Chardonnay, Pinot Grigio, Fiano, Viognier and Muscat. These varietals work together to create intriguing aromas of green apple, melon and tropical fruit. On the palate the fruit continues with notes of mandarin orange and lime while showing a wonderful balance of richness with fresh acidity on the finish.
Recipe Credit: The Food Charlatan