Beef Roast with Spicy Parsley Tomato Sauce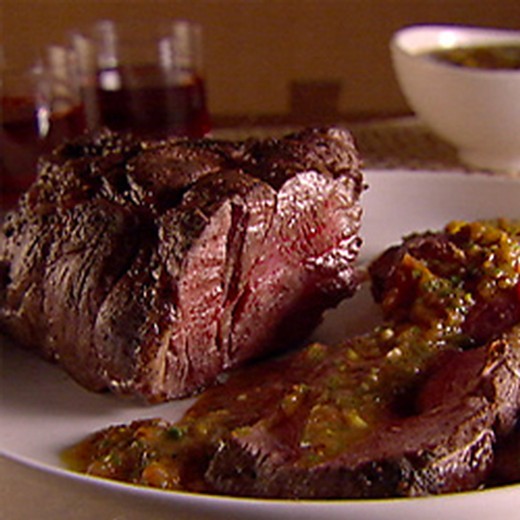 Recipe Date:
January 27, 2017
Measurements:
Imperial (US)
Pairs well with Elevation Ten Cabernet Franc or Proprietor's Blend
Ingredients
2 lbs Sirloin tip or chunk roast
Kosher salt and freshly ground black pepper
4 Roma tomatoes, halved lengthwise
2 tsps Herbs de Provence
3 tbsps CaliVirgin EVOO
1 1/2 cups Fresh flat-leaf parsley leaves
2 Garlic Cloves
1/2 tsp Red pepper flakes
2 tbsps Red wine vinegar
1/2 cup CaliVirgin EVOO
Directions
Preheat oven to 375º F. Season the beef with salt and pepper.
Season the tomatoes with salt, pepper, and herbs de Provence. Heat the olive oil in a medium, heavy roasting pan or Dutch oven over high heat. Sear the beef on all sides until browned.
Place the seasoned tomatoes around the seared beef and place the pan in the oven. Roast until a meat thermometer inserted in the beef reads 130º F for medium-rare or 135º F for medium, 30 to 40 minutes.
Tent the roast loosely with foil and let it rest for 10 to 15 minutes. The internal temperature of the meat should rise 5 degrees more and the juices will redistribute into the roast.
While the meat rests, place the parsley and garlic in a food processor and pulse until the parsley is finely chopped. Add the red pepper flakes, ¾ teaspoon salt, the red wine vinegar and the roasted tomatoes and process until pureed. With the machine running, add the extra –virgin olive oil in a steady stream.
To Serve, Slice the roast and arrange on a serving platter. Drizzle a little sauce over the meat. Serve the remaining sauce in a small bowl alongside.