Greek Lemon Chicken and Orzo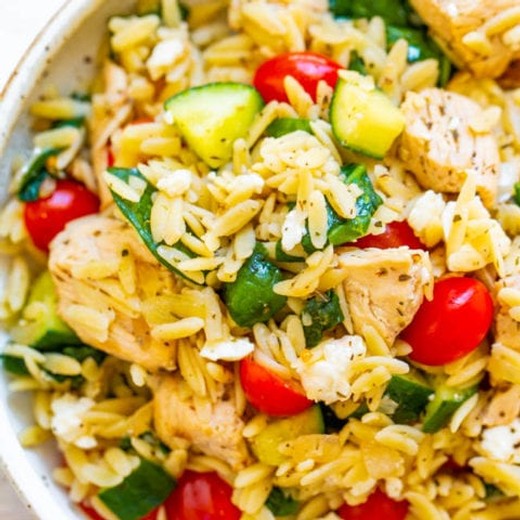 Recipe Date:
June 23, 2020
Measurements:
Imperial (US)
Ingredients
1 pound orzo, cooked according to package directions and drained
3 tablespoons olive oil for pan + more for finished dish, as desired
1 medium sweet Vidalia onion, diced small
1.25 pounds boneless skinless chicken breast, diced into bite-sized pieces, seasoned with salt and pepper
2 teaspoons Italian seasoning
1 teaspoon dried oregano
1 to 4 cloves garlic, pressed or finely minced
5 ounces fresh spinach (about 4 giant handfuls)
1/2 English cucumber, diced small
1 1/2 cups sliced cherry or grape tomatoes
1 teaspoon lemon zest, or to taste
2 to 3 tablespoons lemon juice, or to taste
1+ teaspoons kosher salt, or to taste
1 teaspoon freshly ground black pepper, or to taste
6 ounces crumbled feta cheese
Directions
To a large pot, add the orzo and cook according to package directions. Drain and return to pot; set aside.
While orzo is cooking, to a large skillet add 3 tablespoons olive oil, onions, and cook for about 3 minutes; stir intermittently.
Add the chicken, season with salt, pepper, Italian seasoning, oregano, and cook for about 5 minutes, or until cooked through; flip and stir frequently to ensure even cooking.
Add the garlic, stir to combine, and cook for about 1 minute, or until fragrant.
Transfer the chicken, onions, and any cooking juices to the large pot with the drained orzo.
Add the spinach (looks like a lot but it will wilt) and stir to incorporate. Stir for about 2 minutes, or until it begins to wilt.
Add the cucumbers, tomatoes, lemon zest, lemon juice, salt, pepper, and stir well to incorporate.
Add the feta and stir to combine. Tip – If you want the feta to remain more intact, don't add it until the chicken and orzo have cooled down a bit, or it will melt, which is totally fine, you just won't see the white crumbles.
Taste, and as desired, add additional salt. I added an additional approximately 2 teaspoons because it's a very large quantity of orzo, chicken, and vegetables.
If desired, drizzle in additional olive oil. I recommend another approximately 2 tablespoons for both flavor and so that the orzo doesn't stick as it cools. Serve immediately.
Pairs perfectly with our 2017 Compass Cuvee - The Compass Cuvée is crafted with the intention of creating a delicious medium bodied wine perfect for pairing with meals or by itself enjoying the evening breeze on the patio. The blend comes together seamlessly offering an intense bouquet of raspberry and cherry fruit that continues to evolve in the glass with plum, black cherry. The beautiful aromas are further complimented with blackberry and cherry flavors on the palate supported with a subtle spice and acidity finishing with a delicate ripe tannin structure.
Recipe Credit: www.averiecooks.com