Green Bean Feta Salad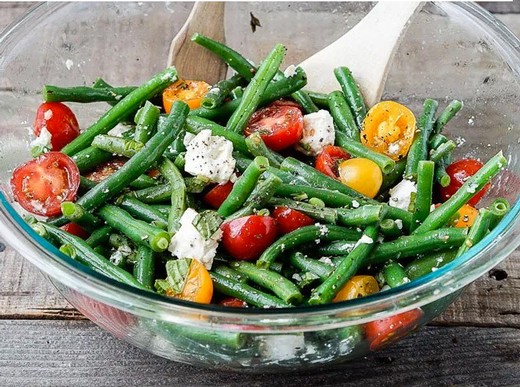 Measurements:
Imperial (US)
Ingredients
2 pounds green beans if using slender, also cut in half across
1/3 cup freshly squeezed lemon juice about 2 lemons
2 cloves garlic finely chopped or minced
1/3 cup extra virgin olive oil
1 tsp dried oregano
1/8 tsp salt and pepper to taste
14 oz grape or cherry tomatoes halved
1/2 cup chopped fresh basil leaves
1/4 cup chopped fresh Italian parsley leaves
1/2 cup feta cubed
Directions
Parboil the green beans first. Bring a big pot of water to a boil and add the green beans at once, cooking for no more than 3 minutes. Remove quickly using a mesh strainer, and transfer to a large bowl with ice water (ice bath) to stop the cooking and keep the green beans slightly undercooked, but crisp.

While green beans are cooling, make the dressing. In a small bowl, whisk together the lemon juice, garlic, oil, oregano, salt and pepper. Set aside.

Place tomatoes, basil and parsley in a large serving bowl.

Pat dry the green beans with a towel and add them to the bowl, tossing together.

Add the dressing and feta and gently combine.
Notes: If making this with potatoes, use 2 large red potatoes, diced. After step 1, add them to the boiling water and cook until they are just tender and can hold their shape in the salad (about 8 minutes). Transfer to the ice bath with the green beans and proceed with the recipe.
This recipe pairs well with our 2017 Reserve Chardonnay. This wine has notes of Lychee, pear, and apple on the nose, a subtle note of banana as well. The palate is caramel, creme brûlée, golden delicious apple, with a slight mineralistic quality, and finishing with a grassy note. Nice acidity toward the end, with a bit of a walnut lingering on the finish.
Recipe Credit: www.fourtocookfor.com