Grilled Balsamic and Soy Marinated Flank Steak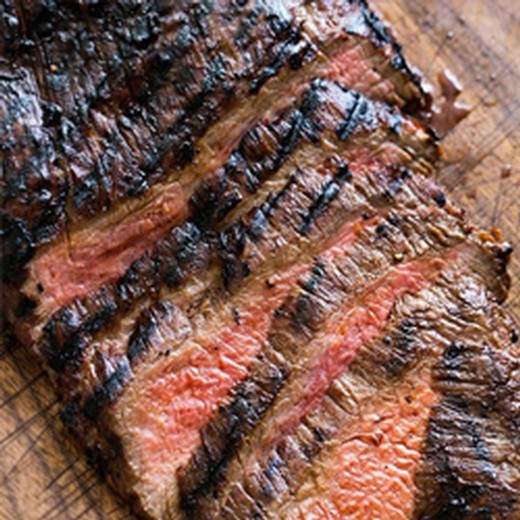 Recipe Date:
January 27, 2017
Measurements:
Imperial (US)
Pairs well with Elevation Ten 2013 Zinfandel
Ingredients
1/2 Onion, chopped
3 Cloves of Garlic
1/4 cup CaliVigin EVOO
1/4 cup CaliVirgin Balsamic Vinegar
1 tbsp Dijon mustard
1 tbsp Rosemary
1 tsp Salt
1/2 tsp Ground black pepper
1 1/2 lbs Flank Steak
Directions

Whisk onion, garlic, olive oil, balsamic vinegar, soy sauce, Dijon mustard, rosemary, salt, and pepper together in a mixing bowl.
Put the flank steak in a large resealable plastic bag. Pour marinade into the bag and coat steak with the marinade. Squeeze excess air from the bag and seal. Marinate in the refrigerator at least 30 minutes, up to 2 days.
Preheat an outdoor grill for medium-high heat and lightly oil the grate.
Remove the flank steak from the marinade and shake to remove excess liquid. Reserve marinade.
Cook steak until firm, hot in the center, and just turning from pink to grey, 6 to 8 minutes per side, brushing occasionally with reserved marinade. An instant-read thermometer inserted into the center should read 150° F. Remove steak to a cutting board and rest meat 5 minutes before slicing thinly across the grain