Grilled Halibut with Orange Remoulade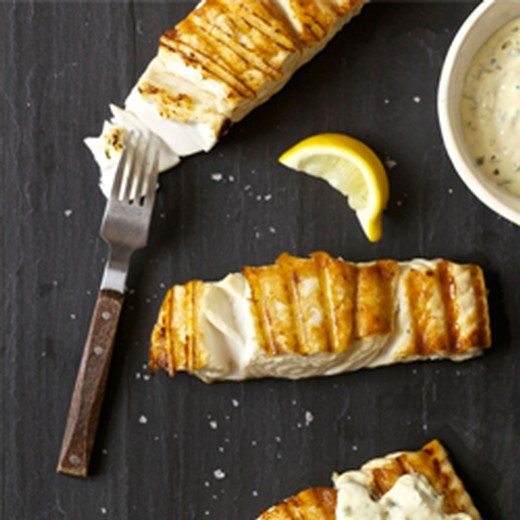 Recipe Date:
January 27, 2017
Measurements:
Imperial (US)
Pairs well with Elevation Ten 2014 Pinot Grigio
Ingredients
3/4 cup Mayonaise
2 tbsps Dijon Mustard
4 tbsps Fresh orange juice
1/4 tsp Dried tarragon or 3/4 teaspoon chopped fresh tarragon
2 tsps Drained capers, chopped
2 Dilled gherkins, chopped
1/2 tsp Anchovy paste
1 tbsp Fresh chopped parsley
Fresh ground black pepper, to taste
4 Halibut steaks, about 1 inch thick (about 2 lbs total)
1 tbsp CaliVirgin EVOO
1/2 tsp Salt
Directions
In a small glass or stainless-steel bowl, whisk together the mayonnaise, mustard, orange juice, tarragon, capers, gherkins, anchovy paste, parsley, and 1/8 teaspoon pepper.
Light the grill or heat the broiler. Coat the halibut with the oil and season with the salt and 1/4 teaspoon pepper. Grill or broil the fish for 3 minutes. Turn and cook until just done, about 4 minutes longer. Serve the fish with the orange rémoulade.
NOTES:
Fish Alternatives Serve grilled or broiled salmon steaks, salmon fillets, or skewered sea scallops with the remoulade in place of the halibut