Honey-Mustard & Rosemary Chicken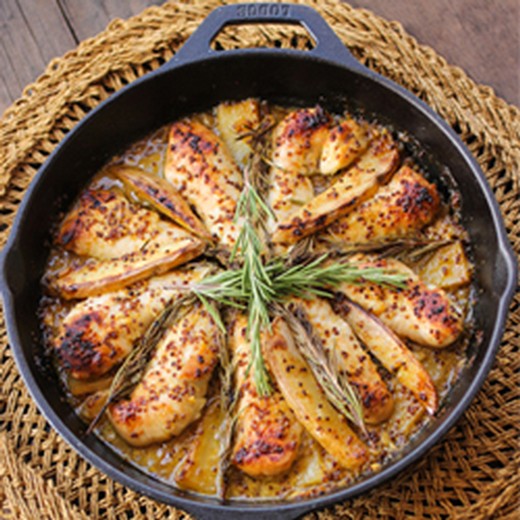 Recipe Date:
April 8, 2019
Measurements:
Imperial (US)
Pair with 2015 Proprietor's Blend
Ingredients
1 lb potatoes (depending on size of pan), cut into thin wedges or sliced
1 1/2 lbs chicken breasts, cut into thick strips
2 medium onions, finely diced
1 small bunch of fresh rosemary
CaliVirgin Rosemary Olive Oil
salt & pepper
2 tbsps Sutter Buttes Cabernet Mustard
3 tbsps grainy mustard
1 juice of a large lemon
3 tbsps Backroad Beekeeping Honey
2 cloves garlic, minced
Directions
This is the perfect, memorable dish to make for impromptu dinner guests or a family dinner. The easy preparation, allows more time to visit with your guests. Your friends and family will love it and will want you to make it for them all the time.
1. Preheat oven to 390F.
2. In an oven-safe skillet (if you've got one), cook the onions in a couple of tablespoons of olive oil over medium-high heat on the stove until softened and starting to brown, about 10 min.
3. Take off the heat and arrange your potato slices on top in an even layer. (if you are using a normal skillet, transfer the onions to an oven-safe dish first then arrange the potatoes on top). Drizzle with olive oil and sprinkle with salt & pepper. Cover loosely with foil and bake in the oven for 15-20 minutes, until softened.
4. Meanwhile, mix all the sauce ingredients together in a bowl or jug. Taste and adjust according to your preference; if you like more acidity add more lemon, more sweetness add more honey etc.
5. Take the pan out of the oven and arrange your raw chicken on top of the potatoes in an even layer. Pour the prepared sauce on top, making sure everything is coated. Throw a few sprigs of rosemary around the chicken, cover again with foil and bake for 20 minutes.
6. After 20 minutes, remove the foil and turn on your oven's top grill on high and bake for another 15 minutes until nicely browned. Serve immediately.
NOTES
• Once you have added the sauce, you may want to check on the pan a couple of times throughout the cooking process to make sure the sauce isn't drying out too much. If you do find that it is, just add a small amount of warm water (1/4-1/3 cup) to the pan (and shake it a little to mix) before returning it to the oven to prevent the bottom from burning. The larger the pan you use, the more water you probably will need. Just make sure you add a little at a time!
• Chicken breast is very easy to over-cook, which will result in dry and stringy chicken, so don't go over the cooking time!
• You may marinate the chicken in the sauce the night before you plan to cook it for extra flavor & juiciness if you like.