Mediterranean Salmon in Parchment Paper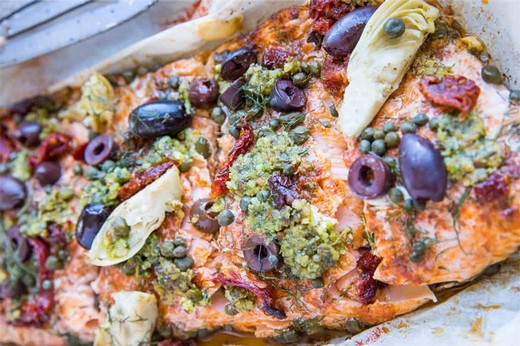 Recipe Date:
April 27, 2020
Measurements:
Imperial (US)
Ingredients
1 (1 3/4-pound) salmon fillet
1/4 teaspoon sea salt
1 teaspoon paprika
1 teaspoon ground ginger
1 teaspoon dried dill
1/4 cup kalamata olives pitted and chopped
1/4 cup sun-dried tomatoes drained
1/3 cup artichoke hearts
1/4 cup capers
3 sprigs fresh dill chopped
1/3 cup pesto sauce
Directions
Preheat the oven to 400 degrees F and lay a long sheet of parchment paper on a large baking sheet.
Place salmon fillet on top of the parchment paper and sprinkle with sea salt, paprika, ground ginger, and dried dill.
Top salmon with the remaining ingredients, trying to get an even distribution over the full fillet.
Fold the sides and ends of the parchment paper, creating a packet. Secure with twine.
Bake on the center rack of the preheated oven for 20 minutes, or until salmon is cooked through. Thicker cuts of fish will require 25 to 30 minutes.
Remove fish from the oven, cut the twine, and unwrap the parchment paper. Cut into individual-size portions and serve with your choice of side dishes.
This recipe will pair beautifully with our 2018 Rose and our 2018 Fiano
2018 Fiano - Fermented in neutral French oak barrels with native yeast and allowed to age on the lees for 10 months, this maiden release shows aromas of mandarin orange and lime, textured with floral and honeyed notes, spice and tropical fruit flavors like pineapple.
2018 Rosé - Our 2018 Rosé is clean and refreshing with aromas of raspberry, peach, and blood orange. The crisp, vibrant acidity enhances the tantalizing tropical and citrus flavors.
Recipe Credit: Julia Mueller