Rosemary Flatbread with Blue Cheese, Grapes and Honey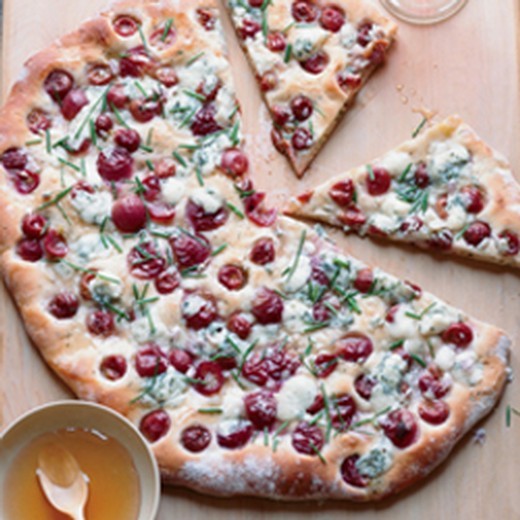 Recipe Date:
February 2, 2017
Measurements:
Imperial (US)
Pairs well with Elevation Ten Rose.
Ingredients
1 Envelope active dry yeast
2 tbsps Sugar
2 cups Bread flour, plus more for rolling
3/4 cup Warm water
2 tsps Chopped rosemary
1/2 tsp Fine salt
1/4 tsp Freshly ground pepper
1/2 lb Red grapes(1 1/2 cups)
Coarse sea salt
3 ozs Blue cheese, crumbled (1/2 cup)
1 tbsp 1919 Honey
1 tbsp Snipped chives
Directions
In a large bowl, whisk the yeast and sugar with 1/4 cup of the flour. Stir in 1/4 cup of the warm water and let stand until slightly foamy, about 5 minutes. Add the rosemary, fine salt, pepper and the remaining 1 3/4 cups of flour and 1/2 cup of water; stir until a dough forms. Turn the dough out onto a lightly floured work surface and knead until smooth, about 5 minutes. Transfer the dough to an oiled bowl, cover and let rise in a draft-free spot until billowy and doubled in bulk, about 1 hour.
Meanwhile, preheat the oven to 450°. Place a pizza stone in the bottom of the oven, and preheat for at least 30 minutes.
Turn the dough out onto a lightly floured work surface. Press and stretch the dough into a 13-inch round, then transfer to a lightly floured pizza peel. Press the grapes into the dough and sprinkle with sea salt.
Slide the flatbread onto the hot stone and bake for about 12 minutes, until the crust is golden and the grapes have begun to release some of their juices. Sprinkle the blue cheese on top and bake for about 2 minutes longer, until the cheese melts. Slide the flatbread onto a work surface and drizzle with the honey and sprinkle with the chives. Cut into wedges and serve.