Slow Cooked Lamb with Garlic and Rosemary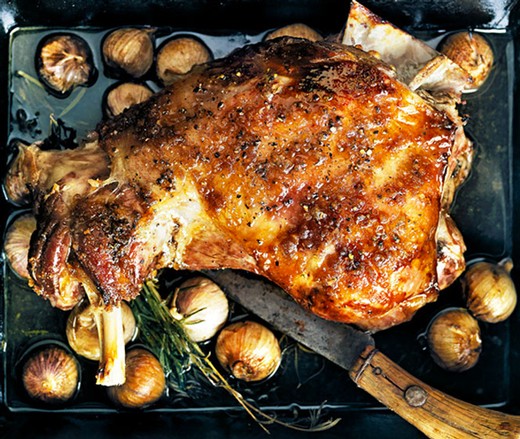 Recipe Date:
April 6, 2020
Measurements:
Imperial (US)
Ingredients
1/2 cup Malt Vinegar
1/2 cup Brown Sugar
1 tbsp CaliVirgin Olive Extra Virgin Oil
Sea Salt and Cracked Black Pepper
4 lbs Lamb Shoulder (Bone In)
18 Single Cloves of Garlic (unpeeled)
6 Sprigs of Rosemary
1 1/2 cups Chicken Stock
Directions
Preheat oven to 350°F. Place the vinegar, ¼ cup sugar, oil, salt and pepper in a large bowl and stir to combine. Add the lamb and set aside to marinate for 20 minutes.
Place the lamb, skin-side up, in a large baking dish. Add the garlic, rosemary sprigs, marinade, and stock. Sprinkle the lamb with the remaining sugar, cover with aluminum foil and roast for 2 hours and 30 minutes.
Remove the foil and roast for a further 30 minutes or until the lamb is cooked to your liking.
**Tip: Single-clove garlic is a type of 'elephant' garlic. As its name suggests, it has one large clove, rather than a head of garlic that's made up of a cluster of smaller cloves. Single-clove garlic looks similar to a small onion and is easy to peel. Find it at some supermarkets and grocery stores
This recipe pairs well with our 2016 Coombsville Syrah - This Syrah shows classic varietal aromas of violets and graphite with nuances of loam, dried flowers and spice. On the palate, it is soft with fine acid balance and ripe tannins. Deep purple in hue, this Syrah's velvety elegance is backed by big fruit and a touch of spice. | Special Pricing - $38.50 a bottle
Recipe Source: Donna Hay