Grilled Garlic Herb Flank Steak with Avocado Corn Salsa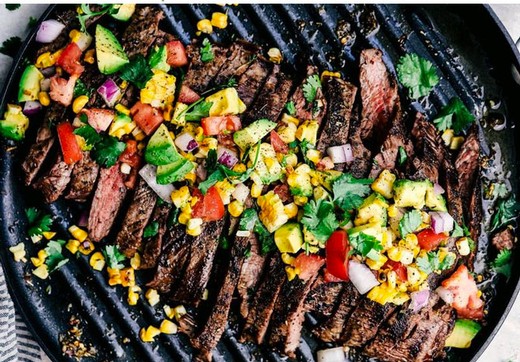 Recipe Date:
April 20, 2020
Measurements:
Imperial (US)
Directions
In a large bowl or ziplock bag, add olive oil, garlic, chopped rosemary, thyme, oregano, salt, and pepper. Add flank steak and marinate for 1 hour or overnight.
Preheat grill to high heat. Discard marinade and add flank steak to the grill. Let the steak sear on high heat for 1-2 minutes on each side and then move to indirect heat and let cook until the desired doneness. Medium rare is 130-135 degrees on a thermometer. Remove steak from heat and cover with aluminum foil and let rest for 10 minutes.
To make the avocado corn salsa: Add avocado, tomatoes, corn, red onion, cilantro and lime juice to a medium-sized bowl and mix until combined.
Slice the steak across the grain and top with avocado corn salsa.