Strawberry and Arugula Salad with Dijon Vinaigrette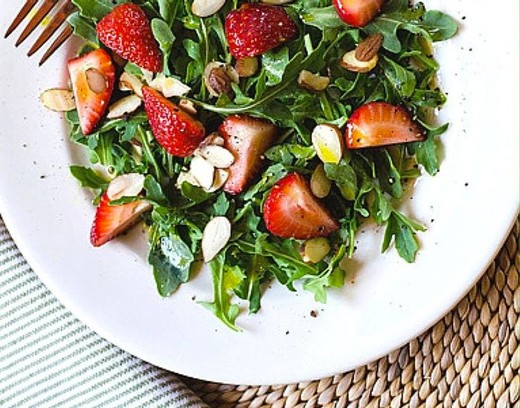 Recipe Date:
January 27, 2017
Measurements:
Imperial (US)
Pairs well with Elevation Ten 2019 Clarksburg Rosé.
Ingredients
Arugula
1 cup Strawberries, sliced
1 1/2 ozs Goat cheese, crumbled (optional)
1 1/2 ozs Toasted sliced almonds
3 tbsps CaliVirgin balsamic vinegar
1 tsp 1919 Honey
1 tsp Dijon mustard
3/4 cup CaliVirgin Extra Virgin Olive Oil
Drizzle of CaliVirgin Lemon Olive Oil
Salt and pepper to taste
Directions
1. Drizzle sliced strawberries with about 2 teaspoons of aged CaliVirgin Aged Balsamic Vinegar, and set aside.
2. Combine the 3 tablespoons of CaliVirgin Aged Balsamic with the honey, Dijon mustard, shallots, and a pinch of salt. Set aside 10 minutes.
3. While whisking slowly add 3/4 cup CaliVirgin Olive Oil to the vinegar mixture.
4. Toss arugula with CaliVirgin Balsamic Vinaigrette, place on platter and top with strawberries and almonds.
5. Add lemon grilled chicken and goat cheese, if desired.
6. Season with CaliVirgin Lemon Olive Oil.
This recipe pairs beautifully with our Clarksburg Pinot Noir Rosé - clean and refreshing with aromas of raspberry, peach, and blood orange. The crisp, vibrant acidity enhances the tantalizing tropical and citrus flavors. The perfect balance of this wine makes it a food pairing master!