Walnut-Crusted Beef Tenderloin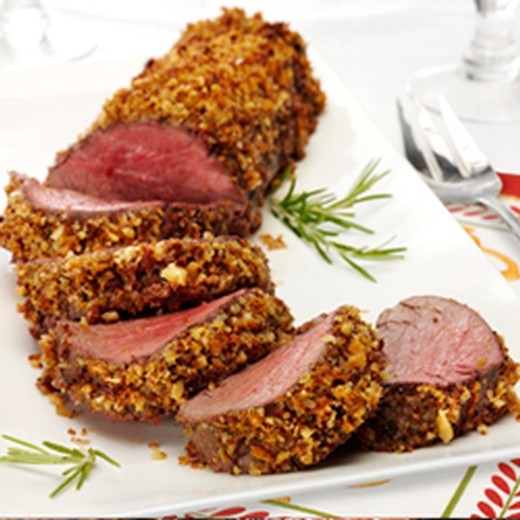 Recipe Date:
January 13, 2017
Measurements:
Imperial (US)
Pairs well with Elevation Ten Cabernet Sauvignon, Cabernet Franc or Proprietor's Blend
Ingredients
1 cup Walnuts, chopped
1/2 cup Lightly toasted breadcrumbs
1/3 cup Calivirgin Extra Virgin Olive Oil
2 Medium cloves of garlic, grated
tbsp Lemon Zest
1 tsp Chopped fresh Rosemary
1/4 tsp Kosher Salt
4 lbs Beef tenderloin*, trimmed
Directions
Directions:
Preheat the oven to 400°F. Combine nuts, bread crumbs, olive oil, garlic, zest, rosemary and salt in a medium bowl.
Place tenderloin onto a roasting pan. Tuck under small end to allow for more even cooking.
Press topping firmly onto top and sides of tenderloin.
Roast for 35 to 40 minutes or until internal temperature reaches 135°F on a meat thermometer for medium. Remove from oven and let rest 10 minutes before slicing.