Whole Wheat Penne With Wild Mushrooms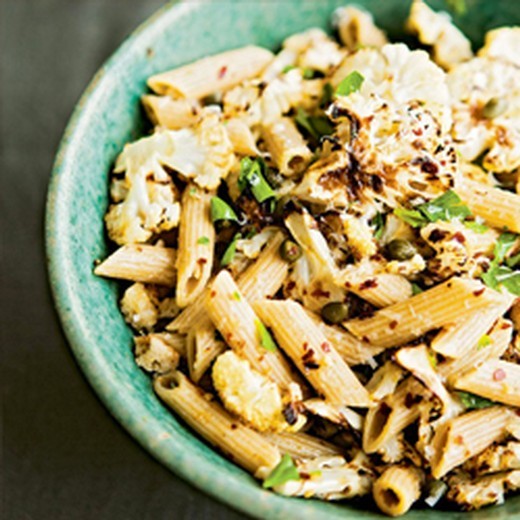 Recipe Date:
January 27, 2017
Measurements:
Imperial (US)
Pairs well with Elevation Ten Zinfandel
Ingredients
1 Head of Garlic
3 tbsps CaliVirgin EVOO, divided
Salt and freshly ground black pepper
1/4 cup Warm water
1/2 cup Finely chopped onion
8 ozs Wild mushrooms, cleaned and sliced
2 tbsps Chopped fresh herbs (rosemary, parsley, thyme, sage)
1 pinch red chilli flakes
2 cups Chicken or mushroom broth
Juice of 1/2 lemon
12 ozs Whole wheat penne pasta
1/2 cup Grated parmesan cheese
2 tbsps Butter
Directions
Preheat the oven to 350º F. Use a serrated knife to cut the top quarter off the garlic. Place the remainder in a small ramekin, drizzle with 1 teaspoon of the oil, sprinkle with salt and pepper, and cover with foil.
Bake for 45 minutes, or until the garlic squishes easily when gently squeezed. Remove from oven, add water, cover with the foil, and allow to sit for 30 minutes. Squeeze the sides to release the cloves from their papery skins; discard the skins. Mash cloves into the ramekin with the soaking water. Heat the remaining oil in a large sauté pan over medium-high heat.
Add the onion and sauté until it is soft and beginning to brown, about 8 minutes. Add the firmest mushrooms to the pan and sauté for 2 minutes. Stir in the fresh herbs, chili flakes, and remaining mushrooms; sauté until the mushrooms begin to brown and become tender. Deglaze the pan with broth and lemon juice, scraping up any brown bits on the bottom of the pan.
Add the garlic and gently simmer over low heat. Bring a large pot of salted water to a boil.
Add the pasta and cook until al dente, 8 to 10 minutes. Reserving one cup of the cooking liquid, drain the pasta. Put the pasta in a large serving bowl, and toss with the mushroom sauce, cheese and butter.
Stir in the reserved liquid if the pasta seems too dry. Season with salt and pepper and serve.