Zinfandel Braised Lamb Chops with Dried Fruit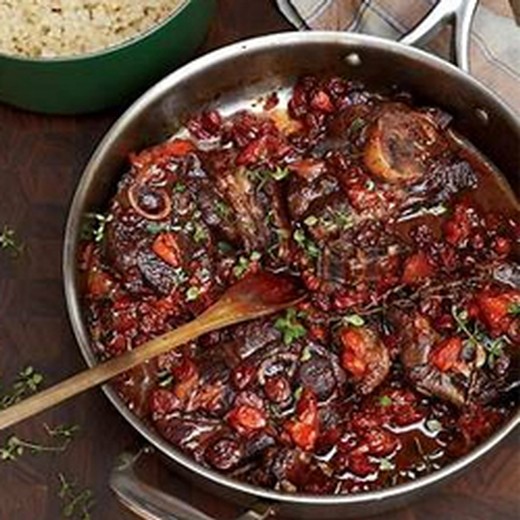 Recipe Date:
August 1, 2018
Measurements:
Imperial (US)
Ingredients
2 tbsps CaliVirgin extra-virgin olive oil
4 Lamb shoulder chops (8 ounce) cut 1 inch thick
1 tbsp Ground Coriander
8 garlic cloves, halved
10 Thyme sprigs, plus more for garnish
1 cup 2015 Elevation Ten Zinfandel
1/2 cup Dried cherries (3oz)
1/2 cup Dried Apricots (3oz) quartered
2 cups Low-sodium beef broth
Salt and Pepper to taste
Directions
Take your chops and pat dry with paper towels and discard. This will help the meat brown evenly. Heat a large deep skillet on medium high heat and add the 2 tablespoons of olive oil. Allow oil to heat but not smoke. Place the chops in the pan and lower heat to medium, add your garlic, thyme, (and coriander seeds if using) at this time to brown as well. Allow chops to brown on both sides, this will take 2-3 minutes on each side. Salt and pepper each side once brown.
Once you are happy with the browning of your meat, add the red wine to deglaze the pan. Add dried cherries and apricots. Allow red wine to reduce to half its volume, this will take about 5 minutes. Add beef broth and bring to a simmer, reduce to medium-low and keep partially covered. Make sure during braising to turn the meat once or twice and make sure to taste for salt, add salt if needed. After about 35 minutes test for tenderness, the sauce will be thick and glossy when done. Make sure to taste for salt and pepper and add as needed. Discard thyme sprigs, and serve. Please note, if you use the ground coriander rub on the lamb chops after patting them dry. For whole seed coriander add to the pan to toast with the garlic.
Chef's Notes: This recipe can be prepared the day before and reheated. You may choose a different cut of lamb for braising depending on your preference. Shoulder, Shank, and Neck Slices can be used as well. Cooking time will need to be adjusted depending on the thickness of the meat. Increase time for increased thickness. You will also want to increase your liquids for thicker meats, making sure the liquid covers ½ to ¾ of the meat during braising. If you are using Whole Coriander Seeds and don't want them in the final plating you can toast these separately and place in cheesecloth or tea ball to be removed before serving.