TOP
Festivo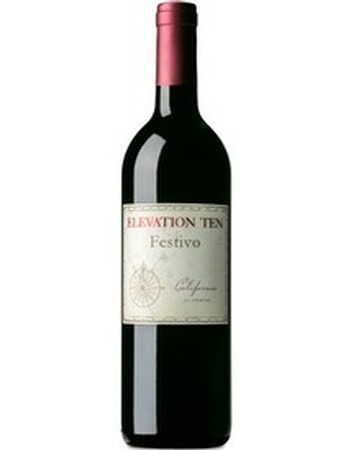 25% off 6+ bottle purchases
This wine is made in an off-dry style by blending a small amount of sweet Muscat with traditional California varietals. For this particular blend, we found that balancing the hearty deep flavors of Petite Sirah, the fruitful expression of Zinfandel, and the fruity soft palate of the Mission grape varietal, made a delightful core to this blend. With just a small percentage of Orange Muscat to finish it off, this wine is truly festive!
Classic Spanish Sangria Recipe
Ingredients:
1 bottle of Elevation Ten Festivo
¼ – ½ cup sugar
​Juice from 1 orange
1 medium orange or any other fruit you would like to add (rind on, sliced into small pieces, large seeds removed, plus more for garnish)
1 cup soda water or Elevation Ten Brut Sparkling wine to top off (optional)
1 cup ice to chill
Instructions:
Add oranges (or any other desired fruit), and sugar to a large pitcher and muddle with a muddler or wooden spoon for 45 seconds.
Add orange juice and muddle again to combine for 30 seconds.
Add Festivo wine and stir to incorporate, then taste and adjust flavor as needed.
Stir to combine.
Add ice and stir once more to chill. Serve as is, or with a bit more ice.
Garnish with orange segments. (optional)
*Store leftovers covered in the refrigerator for up to 48 hours, though best when fresh.
Product Reviews
Sarah White
(Jul 10, 2018 at 3:02 PM)
This is my go-to summer wine! I have this out at all of my summer barbeques. Makes the perfect sangria!