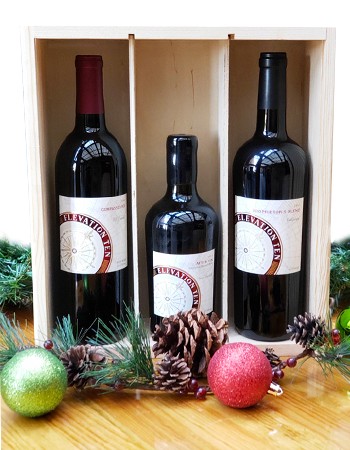 Holiday Favorites Gift Set
We know that finding the perfect gift for your clients or employees can be a challenge. We invite you to let us do the work for you. Select from a variety of elegant and highly rated wines and gift sets, send us a list of your gift recipients, and we will send the gifts on your behalf. Our private concierge will work with you every step of the way to make the process effortless and memorable for your recipients. We offer custom gift notes, and free local delivery for large orders.
We can customize any gift set to meet your specific needs, give us a call at 916-744-1710 or email us at kgreenwood@elevationten.com for information. Order early to ensure on-time holiday delivery. Delivery of holiday gift sets will start November 8th.
Hoiday Favorites Gift Set
This gift set features three of our favorite Clarksburg varietals:
2015 California Proprietor's Blend - This powerful wine is dark, deep and layered with cherry, blackberry, cacao, loam, cassis, blueberry jam, toasty oak and graphite-laced mineral aromas. The mouth-feel is muscular, complex and seamless, with dark chocolate and blue-fruit flavors, ripe tannins and good acid structure. Our 2015 Proprietor's Blend is composed of Cabernet Sauvignon, Cabernet Franc and Malbec.
2016 Compass Cuvée - This smooth and delicious red blend brings together two of Italy's premier wine grapes (Barbera from Northern Italy and Sangiovese from Tuscany) balanced with Primitivo.
2014 After Ten - After Ten is a port-style dessert wine made from two of the four grape varietals traditionally used in the production of port. This wine is rich and balanced, with aromas of dried plum, tobacco, cedar and toffee with subtle hints of cacao and jammy black cherry.
This Gift Set Includes
- 1 bottle 2016 El Dorado Compass Cuvée
- 1 bottle 2015 Clarksburg Proprietor's Blend
- 1 bottle of 2014 El Dorado After Ten
- Logoed gift box
* Wine Club members be sure to log in to your account to receive your wine club discounts on this order!
Experience the benefit of membership! Save up to 20% on your order by joining our wine club. Sign up today!
Retail Price - $140.00
Navigator's Club Price - $112.00
Compass Club Price - $119.00