Winery Journal
---

YIELD: 4 servings
TIME: 30 minutes
Steak au poivre sounds as if it would be difficult, but it is actually quite simple to prepare, and makes an easy and elegant (perhaps somewhat pricy) meal. Essentially it is a sautéed steak, with a quick pan sauce. This version made with black peppercorns and Sichuan pepper tastes bright but not overpoweringly peppery or boozy. If you serve it with scallion-mashed potatoes, your home cooked steak au poivre will put the best neighborhood bistro to shame.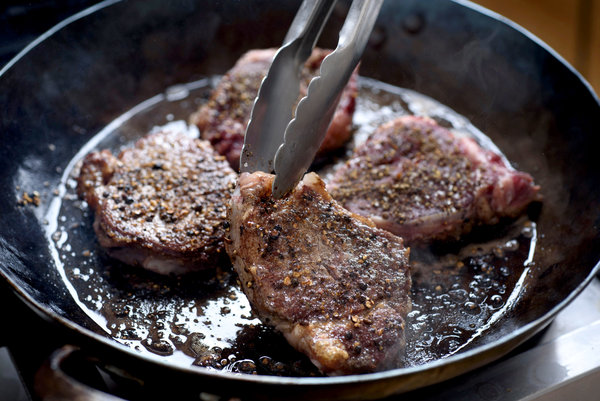 Ingredients
4 beef tenderloin steaks, 6 ounces each, cut 1 inch thick
Salt
1 tablespoon coarsely crushed black peppe
1 teaspoon coarsely crushed Sichuan pepper
2 tablespoons unsalted butter
2 large shallots, finely diced
1 ½ cups rich beef or chicken broth
1 tablespoon Cognac or bourbon
¼ cup crème fraîche
1 bunch watercress, for garnish
Preparation
Put steaks in a shallow dish and season well on both sides with salt. Sprinkle black pepper and Sichuan pepper evenly over steaks. Press pepper into both sides with hands and leave for 10 minutes.
Put a large cast iron skillet over high heat. When surface is nearly smoking, swirl 1 tablespoon butter in the pan and add steaks. Adjust heat as necessary to keep steaks sizzling briskly.
Cook for 2 minutes on first side; seared side should be nicely browned. Flip and cook for 2 minutes more. Transfer steaks to a warm platter.
Make the sauce: Add 1 tablespoon butter to the pan. Add shallots and sauté for a minute or so, stirring, until they begin to brown. Add broth and bring to a brisk simmer. Add Cognac and continue to simmer until reduced by half, 3 to 4 minutes. Stir in crème fraîche and cook until sauce is lightly thickened.
Return steaks to pan to warm, spooning sauce over them and turning once. Arrange steaks on platter or individual plates and top with more sauce. Garnish with bouquets of watercress and serve immediately.