Blueberry Chipotle Baby Back Ribs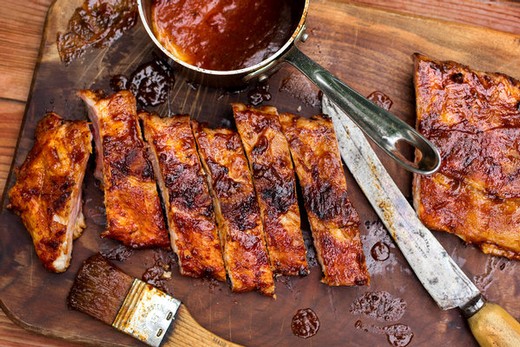 Recipe Date:
July 16, 2019
Measurements:
Imperial (US)
Ingredients
6 lbs Pork Baby Back Ribs (3 racks)
1 jar Jolly Trading Company Blueberry Chipotle BBQ Sauce
Jolly Trading Company Capital Coffee Rub
Salt and peper to taste
Directions
1. Heat grill to medium, wash and pat dry ribs and remove membrane on underside of ribs.
2. Apply Capital Coffee Rub seasoning on ribs liberally to coat.
3. Place on grill bone side down for 15 minutes (watch for flare ups).
4. Flip and cook other side for 10 minutes on medium heat, then turn to low heat and cook for another 10 minutes.
5. Flip ribs again and baste liberally with Jolly Trading Company Blueberry Chipotle Barbeque Sauce and cook on low heat for an additional 5 minutes, for a total of 40 minutes cooking time.
6. Remove and let stand for 5 minutes, serve with Elevation Ten Cabernet Franc.