Blueberry-Nectarine Pandowdy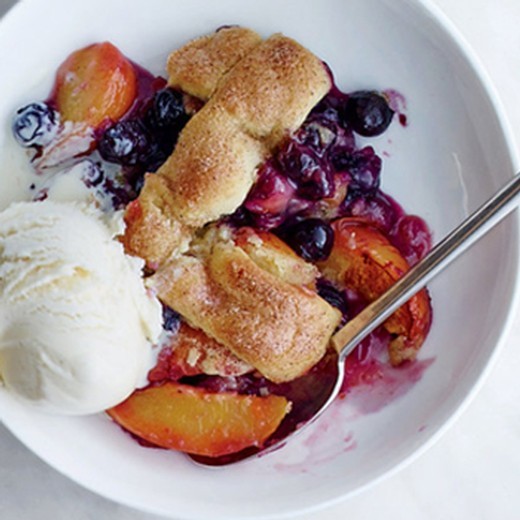 Recipe Date:
February 1, 2017
Measurements:
Imperial (US)
Pairs well with Elevation Ten Black Muscat.
Ingredients
3/4 cup All-purpose flour
1/4 cup Baking powder
1/4 tsp Kosher salt
4 1/2 tbsps Unsalted butter, softened
1/2 cup Sugar
1/4 tsp Pure vanilla extract
1 1/2 tsps Finely grated lemon zest plus 1 1/2 teaspoons fresh lemon juice
1 1/2 tsps Finely grated lime zest plus 1 1/2 teaspoons fresh lime juice
2 tbsps Beaten egg (1/2 large egg)
Unsalted butter, for greasing
1/2 cup granulated sugar
1/2 tsp ground cinnamon
4 cups Sliced nectarines (4 to 5)
4 cups Blueberries
1/4 cup Cornstarch
1 tbsp Finely grated orange zest plus 1/2 cup fresh orange juice
2 tbsps Finely grated peeled fresh ginger
2 tbsps Brandy
1 tsp Ground ginger
1/2 tsp Ground cardamom
1/2 tsp Grated nutmeg
Heavy cream, for brushing
Ice cream, for serving
Directions
MAKE THE SUGAR COOKIE DOUGH
In a medium bowl, sift the flour with the baking powder and salt. In a large bowl, beat the butter and sugar with a hand mixer at medium-high speed until light and fluffy, about 3 minutes. Beat in the vanilla, lemon zest, lemon juice, lime zest and lime juice, scraping down the side of the bowl as necessary. Beat in the egg. With the mixer at low speed, beat in the dry ingredients, scraping down the side of the bowl as necessary; the dough will be very soft.
Scrape the dough out onto a sheet of plastic wrap and roll into 
a 9-inch log. Flatten the log into a 2-inch-wide rectangle, about 
1 inch tall. Refrigerate until very firm, at least 2 hours.
MAKE THE PANDOWDY
Preheat the oven to 350˚. Butter a 9-by-13-inch glass, ceramic or metal baking dish and sprinkle with 2 tablespoons of the sugar; turn to coat the pan with sugar.

In a small bowl, mix 2 tablespoons of the sugar with the cinnamon. In a large bowl, toss the nectarines and blueberries with the remaining 1/4 cup of sugar and the cornstarch, orange zest, orange juice, grated ginger, brandy, ground ginger, cardamom and nutmeg. Spread the fruit in the prepared dish.

Using a sharp knife, slice the rectangle of cookie dough 1/4 inch thick. Arrange the slices over the fruit in a graphic or random pattern; they will spread during baking. Brush the dough with heavy cream and sprinkle with the cinnamon sugar. Bake the pandowdy until the cookie dough is golden brown and the fruit is bubbling, about 45 minutes. Serve warm, with ice cream.