Chirizo and Chicken Paella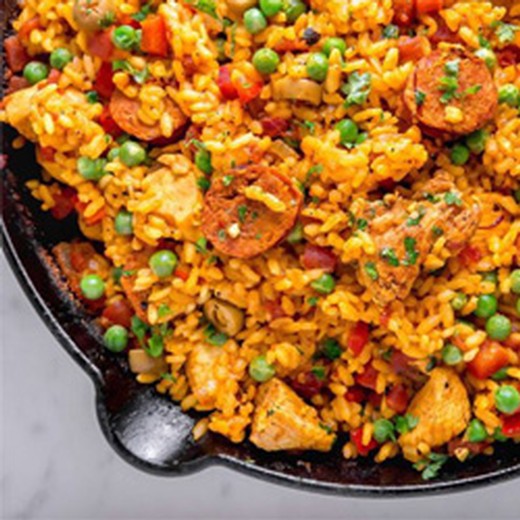 Recipe Date:
March 13, 2020
Measurements:
Imperial (US)
Ingredients
4 tbsps Olive Oil
2 Chicken breasts (or chicken thighs) cut into square pieces
2 Links of Spanish Chorizo (12oz), sliced
Salt/freshly ground black pepper to taste
2 tsps Smoked paprika
1 Small yellow onion, diced
3 Cloves of garlic, minced
1 Large red bell pepper, diced
1 Can small can fire roasted diced tomatoes (14.5oz)
3 1/3 cups Chicken broth
1/4 cup Dry white wine
1 tsp Turmeric
2 cups Arborio rice
Pinch saffron threads
1 cup Fresh or frozen green peas
1 tbsp Sliced spanish manzanilla olives
1/4 cup Chopped parsley
Lemon wedges, for garnish
Directions
Heat the 3 tbsp oil in a large cast-iron skillet over med/high heat, add chicken, paprika, a pinch of salt & pepper, brown the chicken on all sides, remove from pan and set aside. Add chorizo, brown on all sides and set aside.
Lower the heat to medium, add 1 tbsp olive oil and sauté the onion & peppers till softened about 3-4min. Add garlic & cook until fragrant (about another minute) Add the wine, allow alcohol to cook off and liquid reduces (about 2 minutes).
Stir in the diced tomatoes, chicken broth, and chorizo. Bring the liquid to a boil and then stir in the rice, saffron, and turmeric. Add the browned chicken pieces. The rice should be covered in liquid.
Lower the heat and cover with a piece of foil. Cook the paella without stirring for 20 minutes. When the liquid has all been absorbed, add the peas and olives. Mix all together, garnish with freshly chopped parsley and serve with lemon wedges on the side.
This recipe pairs well with our 2016 Garnacha - Starting with a lovely floral nose, this very light, beautiful Garnacha is everything you are looking for as we enter into spring. The palate is also light, with hints of strawberries and raspberries.

30% off + $5 Shipping on all orders of 4 or more bottles | Special Pricing - $19.60 a bottle