Chocolate Espresso Cake with White Chocolate Crème Anglaise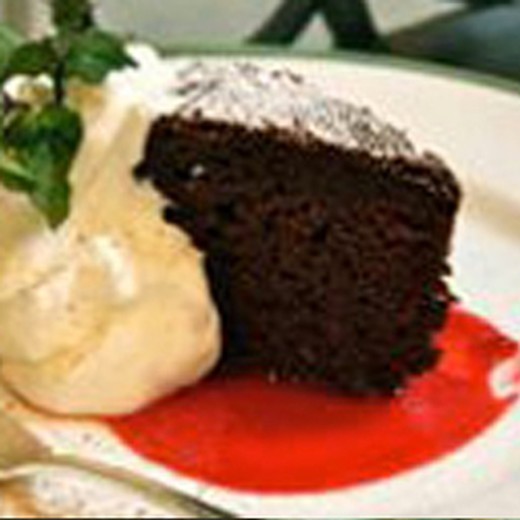 Recipe Date:
January 27, 2017
Measurements:
Imperial (US)
Pairs with Elevation Ten After Ten Port
Ingredients
1 1/2 cups Unsalted butter, cut up small
7 ozs Unsweetened chocolate squares, chopped
4 ozs Bittersweet chocolate, chopped
2 tbsps Instant espresso dissolved in 2 cups boiling water
3 cups Sugar
2 1/2 tbsps Liquor
1 tbsp Vanilla
3 Eggs
1 1/2 cups All purpose flour
1 1/2 cups Cake flour
1 1/2 tsps Baking soda
1/2 tsp Salt
Directions
Preheat oven to 290ºF. Line a 10" spring-form pan with parchment paper and spray lightly with pan spray. Wrap the pans with foil as the batter is very thin and may leak out.
Put butter, chocolates, and espresso/water mixture in a mixing bowl and place over a pot of simmering water. Stir often until the ingredients are melted and smooth. Remove from the heat and add the sugar. Stir until dissolved. Cool slightly. Add the liquor and vanilla mix well and then whisk in the eggs.
Sift the dry ingredients together and add to the chocolate mixture, beat just until incorporated. Pour into prepared pan and place on a baking sheet and then into the oven. Bake about 1 ¾ to 2 hours or until a cake tester inserted into the center of the cake comes out clean. Remove and cool. Serve with white Chocolate Crème Anglaise and fresh raspberries.
White Chocolate Crème Anglaise
INGREDIENTS:
2 cups half and half
½ cup sugar
6 egg yolks
1 tsp vanilla
¾ cup premium imported white chocolate, chopped
INSTRUCTIONS:
Place the white chocolate in a small bowl over barely simmering water, stirring until completely melted and smooth. Keep warm until ready to use.
Whisk together in a bowl the egg yolks and sugar.
Heat the half and half in a heavy bottomed sauce until it comes to a boil. Remove from the heat and drizzle the liquid slowly, while whisking, into the egg mixture. Return to the pan and cook over medium heat, stirring constantly until slightly thickened and coats the back of the spoon. Remove from the heat and strain into a bowl and whisk in the reserved melted white chocolate and vanilla, then put the bowl in ice water to cool quickly.