Molten Chocolate Lava Cake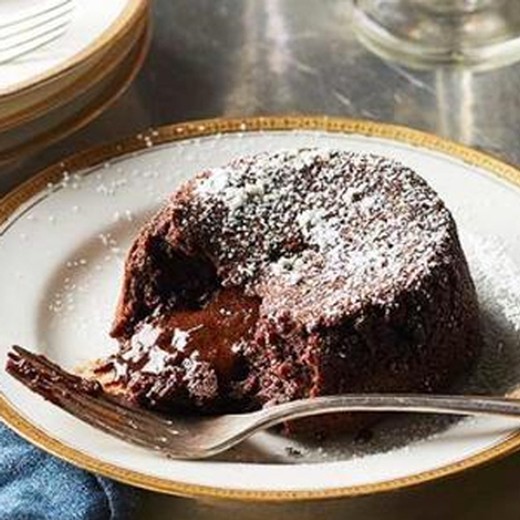 Recipe Date:
February 1, 2017
Measurements:
Imperial (US)
Pairs with Elevation Ten After Ten
Ingredients
2 tbsps Butter
8 ozs Bittersweet chocolate, coarsely chopped
3/4 cup Butter
3 Eggs
3 Egg yolks
1/3 cup Granulated sugar
1 tsp Vanilla
1 tbsp All-purpose flour
Powdered sugar
Directions
Using the 2 tablespoons butter, grease six 8- to 10-ounce ramekins, souffle dishes or custard cups. Place ramekins in a 15x10x1-inch baking pan; set aside.

In a heavy small saucepan, combine chocolate and the 3/4 cup butter. Cook and stir over low heat until chocolate melts. Remove pan from heat; set aside.

In a large mixing bowl, beat eggs, egg yolks, granulated sugar and vanilla with an electric mixer on high speed for 8 to 10 minutes or until thick and lemon colored. Fold one-third of the chocolate mixture into egg mixture. Fold remaining chocolate mixture and flour into egg mixture. Spoon about 2/3 cup batter into each prepared ramekin, dividing evenly.

Bake in a 425 degree F oven about 12 minutes or until cake edges feel firm. Cool in ramekins on a wire rack for 2 to 3 minutes. Using a knife, loosen cake from sides of ramekins. Invert onto dessert plates. Sift with powdered sugar. Garnish with fresh raspberries and mint leaves if desired. Serve immediately. Makes 6 servings.