Roast Chicken with Herbed French Fries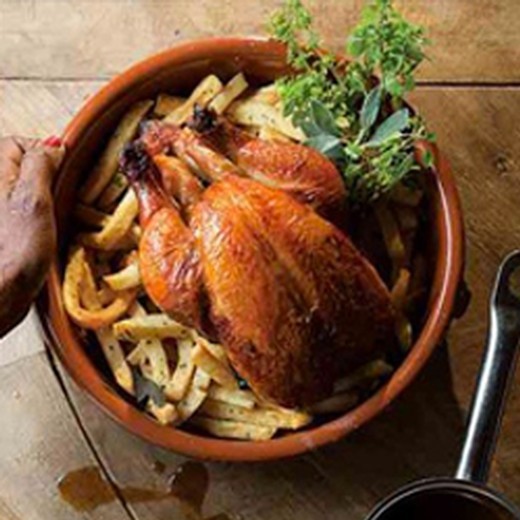 Recipe Date:
January 27, 2017
Measurements:
Imperial (US)
Pairs well with Elevation Ten Chardonnay
Ingredients
Canola oil for frying
2 Large russet potatoes (about 1 1/2 lb.), cut into thick french fries
8 tbsps Unsalted butter
1/2 cup Soy sauce
4 lbs Whole chicken
Kosher salt and freshly ground black pepper, to taste
7 Cloves garlic (4 crushed, 3 minced)
1 Bunch fresh thyme, plus 1 tablespoon finely chopped
Directions
Pour oil to a depth of 2 inches into a 6-quart heavy-bottom Dutch oven, and heat over medium-high heat until a deep-fry thermometer reads 375º F. Add the potatoes and cook, turning occasionally and maintaining an oil temperature of 325º F., until pale and tender, about 8 minutes. Using a slotted spoon, transfer fries to a rack set over a baking sheet, and refrigerate until chilled, about 1 hour.
Meanwhile, heat oven to 475º F. Melt butter in 2-quart saucepan over medium heat; stir in soy sauce; set aside. Season chicken with salt and pepper, stuff cavity with crushed garlic and a bunch of thyme; tie legs together. Transfer to 9" by 13" baking dish. Brush heavily with some of the soy mixture, and cook, basting twice more, until and instant-read thermometer inserted into thickest part of thigh reads 165º F., about 1 hour. Let rest for 10 minutes. Return oil to medium-high heat; increase temperature to 385º F.
Working in batches, add chilled potatoes, and cook until crisp, about 2 minutes. Using a slotted spoon, transfer fries to a large bowl. Toss fries with minced garlic, chopped thyme, and salt. Carve chicken; serve with fries and pan juices.